Things To Look Out For In a New Cargo Trailer
You're thinking of buying a cargo trailer. Before just purchasing the first one you see, there are certain important things to look out for in a new cargo trailer. You want to make sure you are getting the most out of your trailer purchase and that it is a well built trailer that will last you for years to come.
Cargo trailers are used for the transportation of goods from one specific location to the other. Whether you haul camping goods, ATV's, business equipment such as landscaping equipment or other heavy machinery, or a classic car for car shows, the most important thing is your goods are safe and protected.
Cargo trailers come in different sizes and styles, and some are built better than others. So knowing what you will be hauling will help you know the type and size of trailer you need to purchase. Buying a cargo trailer is an investment, purchasing the right one for your needs is a must.
Here are 8 important Things to look out for when Purchasing a New Enclosed Cargo Trailer
Interiors and Floors Made Of Plywood
A cargo trailer should have thick and high-quality plywood used in its interior and flooring. The last thing you want is to spend your hard-earned money on a trailer with particle board interior and flooring, just to have it wear out or buckle in a short period of time. It's super important to make sure the trailer you intend to purchase is built with thick plywood for its flooring and interior.
The most common and most advisable plywood thickness needed for the walls and flooring of the interior of the cargo trailer should be about 3/4" or 3/8". The goal is to go for high quality and for a trailer that would last longer, be sure to ask the dealer the thickness.
Thickness Of The Outer Skin And The Material Used
The outer skin of the cargo trailer tells a lot about its durability and how much it can stand wavering temperature changes. It's advised to purchase a cargo trailer that has a thicker outer skin and one that has its skin made of aluminum.
The reason is that a trailer that has a thicker outer skin will last longer and will be more effective in the long run. In terms of the material used, people tend to get skeptical about choosing either a steel covering or aluminum covering for the cargo trailer. It's promising to go for an aluminum exterior with a thickness of about .032 - .050. Standard units are going to have .024 metal. When custom building a trailer, it is recommended to go to a thicker exterior metal to help with long term value. Ask one of our reps about upgrading the exterior metal.
Properly Primed And Painted Cargo Trailer
Changing weather conditions can have adverse effects on vehicles including cargo trailers. It's best to ensure the cargo trailer you intend to purchase is properly primed and painted to protect the trailer against the harsh effects caused by varying weather conditions.
Painting the trailer not only gives it an appealing look, but it helps prevent the trailer from rusting in the future and to prevent water damage as well. All of Rock Solid Cargo's trailers go through a paint booth to ensure all trailers are properly painted.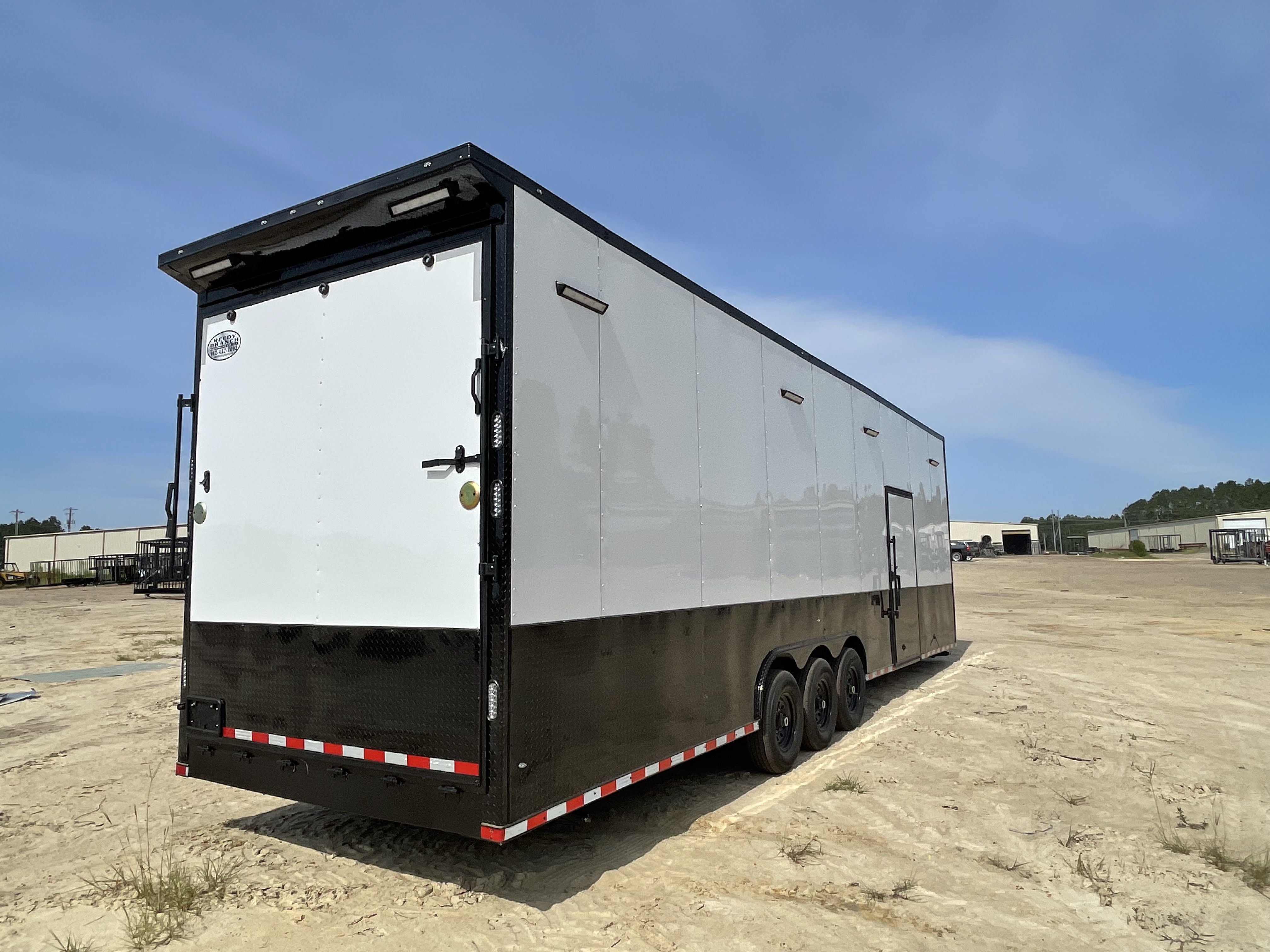 Properly Installed, High-Quality Axles
The need to get a cargo trailer that has properly installed axle(s) cannot be overemphasized. Axles are very important foundations of a cargo trailer and as such, must be found in a trailer you intend to purchase. Our Rock Solid Cargo trailers only use Lippert Component Axles. Lippert Axles are one of the recognized axle brands across the Nation.
The Material Of The Roof
It is safe to say that the major reason for getting a cargo trailer is to be able to transport goods to and from under any condition. This can only be achieved with a trailer that has a roof constructed with the right material to prevent leakage.
The reason is that you wouldn't want your goods nor your trailer suffering damages imposed by bad weather. Rock Solid Cargo recommends checking your roof at least once a year to make sure the caulking is holding up against the weather.
Trailer Assist Ramp Doors
When choosing a trailer, make sure the rear ramp door is intended to handle the amount of weight you plan on loading. There are a few ramp door upgrades available if needed. Our 8.5 ramp doors are rated for the average vehicle. We can increase the rating to 6000 lbs if needed. All of our ramp doors come equipped with a spring assist on the ramp door as well as an extended flap which makes it easier when loading equipment. Rear barn doors are also available if needed.
Be Mindful Of The Wall Stud Spacing
One important factor you shouldn't neglect when checking out a cargo trailer is its wall stud spacing. The more studs your trailer has the higher its firmness and steadiness as well as its strength.
The recommended wall stud spacing should be 16" O/C. Depending on what you are hauling, the walls can be made 12" O/C if needed.
Check The Warranty
The purchase of electronics and equipment usually comes with a warranty, so the cargo trailer you purchase should also come with a warranty. If it doesn't, then you may be dealing with the wrong dealership. If you plan on using your cargo trailer for a long time and for active purposes, then it's best to check the warranty period of the trailer with your dealer.
Although different cargo trailer dealers come with different warranty policies, be sure to confirm that the trailer you're purchasing comes with a warranty policy that you can understand correctly. It should be detailed enough to provide the necessary workmanship, and also covers the warranty of the major parts of the trailer with little to no exemptions.
Our trailers are backed by a Five Year Manufacturer's Warranty with Rock Solid Cargo Trailers.
Here a few things that separates us from others:
Radial tires
(4) Floor mounted D-rings
Therma-cool insulated ceiling liner
Larger 36" side door with RV flushlock
16" O/C floors (Tandem axles only)
16" O/C walls
11 Gauge tubing mainframe(thicker than 14 gauge)
1.5"x1" tubing on walls and ceiling
6'3" interior height
24" Stone guard
Electric Brakes on Both Axles(tandem only)
NOTE: If you see other trailers lower than our price, check the specs!
Lastly, if you still have question, call us 912-422-7092 or check out our trailer FAQ.